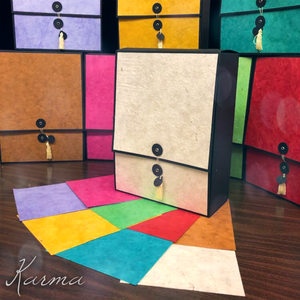 Karma EZ Gift Boxes: The Best Gifting Option
After months of careful planning, design, and manufacturing, EndlessArtUS has developed the perfect gifting product. 
The Karma EZ Gift Box is the first 100% recyclable gifting product that features authentic Handmade "Lokta" Paper. The handmade paper includes plant residue and an authentic texture that is part of the elegance and charm of the gift box. Crafted in the foothills of the Himalayas of Nepal and dip dyed using traditional methods passed from generation to generation, the "Lokta" paper is made from the inner bark of the "Daphne" bush, a fast regenerating, renewable resource. The paper is acid free, very durable, and 100% environmentally friendly. When combined with the impressive black stock recycled paper of the Karma, the vibrant colors of the Lokta truly pop. 
Innovative Gift Box Design
The Karma is built for durability and style. The aformentioned recycled paper has been carefully die cut to make the box easy to put together. Once assembled, the elegant tassel and eyelet accents make opening and closing the box easy. Simply wrap the tassel around the bottom eyelet to securely close the lid of the Karma. The box's lightweight, yet dependable chipboard structure makes it ideal for packing clothing and accessory items. Like most of our gift box designs, the Karma comes in a variety of flavors. 8 total colors to choose from and much more to come! Take your pick by visitng our EZ Gift Boxes product page.
---